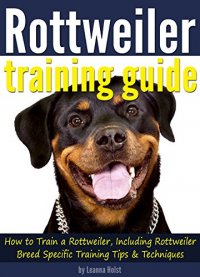 If you want to learn how to train your Rottweiler and learn more about the breed in the process, then this book is for you!
Read on your PC, Mac, smart phone, tablet, or Kindle device.
If you're thinking of raising a Rottweiler, you should be prepared to train it. Rotties make amazing pets and companion dogs, but if not properly trained, they can become a handful and cause problems in your home. A number of Rottweiler owners actually choose to hire professional dog trainers for the task. However, with sufficient knowledge and time to put in, you can train your Rottie on your own. Rottweilers are smart, and they pick up on things quickly, so with proper training, your Rottie can become very obedient in no time. This book not only provides useful training tips simple enough to use on puppies, but it also teaches you how to correct bad behavior in adult Rottweilers too. From teaching your Rottweiler how to follow simple commands, to ensuring that you have a happy and well-behaved dog, to avoiding common mistakes and frequently encountered issues, we've got it covered!
Here Is A Preview Of What You'll Learn…
Training Tips and Tricks for RottweilersWhen and How to Train Your PetEstablishing a Loving and Trusting RelationshipRottweiler Growth and DevelopmentHow to Tend to the Rottweiler's Breed-Specific NeedsMuch, much more!Download Your Copy Today!