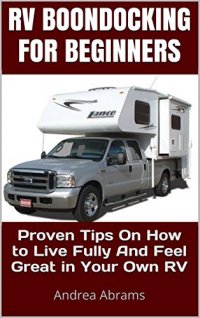 Free on 27th Mar 15


No reviews yet.
This book appears to be unavailable on Amazon.co.uk at the current time. If this is incorrect, please let us know here
RV: RV Boondocking.

Proven Tips On How to Live Fully And Feel Great in Your Own RV
Do you have dreams of spending your time in a recreational vehicle? This is an incredible lifestyle for those brave enough to pursue it.
This book is your key to unlock the mystery of boondocking. Even without experience or background your fantasy can come to fruition. Did you know many are considering them a practical purchase or rental? This book will tell you how to narrow it down to two or three choices. Don't feel overwhelmed.
These topics will address the challenges for beginner RVers. No one will fault you for wanting to learn before spending your money. This is the blueprint for a successful trip full of fond memories. Oh, the places you will discover after you learn the do's and don'ts of RV traveling. Think of all the people you will meet. If you master the details of this you are on your way to visiting unexplored territory.
This solid resource will open your eyes to:
• How to find the Right RV
• Buying a used RV
• How to test your RV for Safety and Reliability
• Safety precautions
• Ideas on Making Money while traveling and more..
Download your E book "RV: RV Boondocking. Proven Tips On How to Live Fully And Feel Great in Your Own RV" by scrolling up and clicking "Buy Now with 1-Click" button!
Tags: rv boondocking, how to live in a car, how to live in a car van or rv, rv living full time, rv living in the 21st century, rv living, rving for dummies, rving, rving books, rving with kids, rv camping books, rv camping guide, rv camping for beginners, rv travel books, RV Boondocking For Beginners, motorhome living, motorhome life, rv travel, rv travel and savings guide, rv travel trail, rving in florida, rving canada, rving in small trailers, rv lifestyle, rv lifestyle a dream come true, rv camping secrets, rv camping tips, declutter, decluttering, simplify, motorhome living for beginners, live in a car, live in a van, how to live in a van, homeless, homelessness, homeless people, how to survive without money