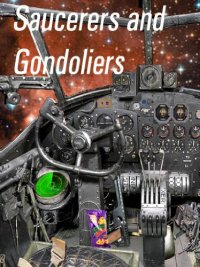 Bargain on 6th - 10th Mar 20



or borrow free on Kindle Unlimited.
No reviews yet.
Flying saucers do not land in country parks. They are not piloted by Englishmen. They do not bear nameplates saying "HAWKER SIDDELEY AVIATION." And they are never, ever filled with smuggled catering packs of Monster Munch.
Britain has had a top secret colony in space for decades. Unfortunately, the colony has grown tired of being run by the mother country – and the mother country has decided it's time to send in the troops. Between these two sides are Anthony Stevens and Cleopatra Shakespeare, abducted from England and hurled into a war between Britain, America, and the newly, fiercely independent United States of the Zodiac.
Where is the mysterious hidden colony of Gondolin? How did the United States of America come to have interstellar spacecraft in the 1950s? And who or what is Truman J. Slughound the Third? Find out in a story guaranteed to contain colour-changing aliens, Godless communists from Altair, rednecks from Barnard's Star, space fighters, rocket pistols, death by ecstasy, very bad hair, and more explosions than you can shake a stick at.