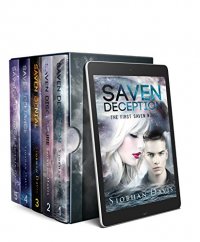 Free on 28th Sep 17 - 2nd Oct 17



or borrow free on Kindle Unlimited.
No reviews yet.
This box set includes all five books in the captivating Saven series from USA Today bestselling author, Siobhan Davis, and is over 1,300 pages of heart-stopping adventure, intriguing mystery, and swoony romance.
THE TRUTH DOESN'T ALWAYS SET YOU FREE
I've fallen hard for an alien, but he's harboring secrets.
Massive secrets that threaten the very essence of humanity.
How can I give him my heart when his race plans on taking my future?
Sadie Owens has been slowly dying inside. Trapped in a life she hates, she relies on only one person–herself.
Despised by her family and betrayed by an unscrupulous government, Sadie dreams of a different life. When she is chosen to participate in the government's new social experiment, she is ecstatic at the prospect of spending six months in Thalassic City, the shiny new city under the sea.
Immediately drawn to Logan Chandler, Sadie is captivated by the beautiful boy with the ocean-blue eyes. Logan seems to embody everything that has been forbidden, but he isn't all he appears to be.
Confused over Logan's true intentions and concerned when her best friend starts transforming in front of her eyes, Sadie sets out to uncover the government's real agenda. The truth is more shocking than anything she could ever have imagined.
When Sadie finally understands why the Saven walk among us, will it be too late to save her heart and the human race?
Thousands of copies sold and millions of pages read in Kindle Unlimited since publication. 900+ five-star reviews for the series on Goodreads. For a limited time, read the entire series in this special collection at a massively discounted price.
?? Saven Deception – CAP Award Nominee for Best Young Adult Book 2016 ??
"The X-Files meets Twilight and blows them both away!" ????? Amazon Reviewer
"The heir to the Lux series." ????? Dreamland Teen Fantasy
"Recommended to fans of The 5th Wave, Insignia, Across the Universe, and Unwind series." ????? Schuyler Central High School Library
"Siobhan has done an admiral job of weaving an alien presence into a dystopian setting, and, in fact, this is a major draw to the story by the end." ???? YA Books Central
This box set includes:
Saven Deception
Saven Disclosure
Saven Denial
Saven Defiance
Saven Deliverance
This set does not include the optional novella, The Heir and the Human.
Scroll up and download a copy today!