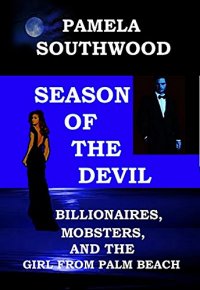 Free on 6th - 7th Jan 17


No reviews yet.
This book appears to be unavailable on Amazon.co.uk at the current time. If this is incorrect, please let us know here
Why Do YOU Think The World's Most Powerful Men REALLY Go To Palm Beach To Live & Play?
Where Do You Think They Get All That Power?
Find Rich Men, True Love, And Keep Your Soul?
Meet The Hot/Devilish Billionaires Of Palm Beach And The Girl Who Loves Them.
Hit Novel From Amazon's Kindle Scout Hot & Trending List!
Kristen Stratford is beautiful, blonde, and quite naïve when it comes to her men. She has a knack for finding the wrong ones! She is expected to marry within her elite social circle; but the wealthier they are, the more secrets they have!
Palm Beach is being even more mysterious as the prestigious members of the Whitestone Country Club are running amok trying to "secure" dates for their highly anticipated Black Veil soiree. At this shadowy event it is never considered a privilege to be the "Guest of Honor", and poor Kristen is perched right in the center of their sight lines. And, with these edgy billionaires, their global playrooms take on a whole different meaning. Only the island "insiders" know exactly what "sacrifices" these chosen few make when they return every season.
It has been quite a quest for the young socialite while searching for her prince. She hooks up with a top executive, a Mafia nightclub owner, and a quirky New York police lieutenant, as she tries to avoid kissing all the other frogs along the way. Her trust fund is also preyed upon by Robert St. Germain, a high stakes con artist who she just can't seem to escape.
Kristen finally finds her true love, but then forsakes it all for Karl, a handsome and somewhat "devilish" British tycoon that she meets at a charity ball. As he lures her into his dark realm, Kristen is now unsure of exactly who is in charge of her future.
Season Of The Devil is filled with steamy romance, a hint of the supernatural, and unforgettable true to life characters. Its unexpected twists provide for an adventure on every page!
In Palm Beach There Are Only Two Seasons.
Hurricane Season And "His" Season…
Settings: Chicago, Palm Beach, New York, London
Be sure to visit Goodreads and other reader sites for all the 5 star reviews that are not shown on Amazon!
*For Upcoming Books – Join The Notification List! southwoodnovels@gmail.com
Coming Soon: Shadow Over Washington-Political Romance-Thriller
Love & Evil In Beverly Hills-Romantic Suspense-Adventure