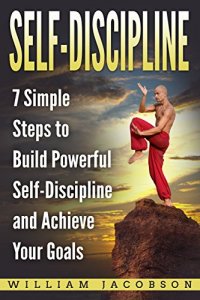 Bargain on 1st - 5th Jan 18



or borrow free on Kindle Unlimited.
No reviews yet.
Use These 7 Simple Steps To Immediately Build Powerful and Unstoppable Self-Discipline and Achieve Your Goals!
This book contains proven steps and strategies on how to build powerful and unstoppable self-discipline. One of the things that many people want to know is what separates the most successful people from everyone else. Did they have more opportunities? Did they have more resources to work with? Just what is it that enables successful people to achieve their dreams and goals? While some of them did have more opportunities and resources than most other people, the majority of them didn't. Instead, the single thing that enables people to become successful, regardless of opportunity or resources, is self-discipline. Many of the most successful people in the world today owe their success to the discipline they applied to their minds, their actions and even their imagination.
This book will reveal seven of the most proven methods to achieve the self-discipline needed in order to achieve any goal or to turn any dream into reality. Once you have read this book nothing will be able to keep you from achieving any level of success you can imagine!
Here Is A Preview Of What You'll Learn…
How To Set Clear GoalsHow To Create A Positive MindsetHow To Organize Your EnvironmentHow To Establish a RoutineHow To Develop Positive HabitsHow To Stay MotivatedHow To Embrace FailureAnd Much Much More
Take action right away to build your own powerful self-discipline and achieve what you want by getting this Kindle book for a limited time discount!