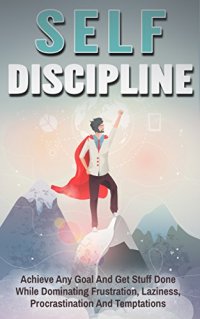 Free on 25th Feb 18



or borrow free on Kindle Unlimited.
No reviews yet.
Self-Discipline: Achieve any Goal and Get Stuff Done while Dominating Frustration, Laziness, Procrastination, and Temptations
Self-discipline, whether we like it or not, is the FOUNDATION of all personal success and happiness. I'm not talking about some success and happiness here and there. I'm not even talking about most of these things. I'm talking about ALL of them. If you want to get anywhere in life and hang on to what you achieve, you need self-discipline. That's the bottom line. You need it to get anywhere in life. You need this trait if you want to keep the great results that you've produced so far. This is the glue that holds everything together.
If you're having a tough time developing self-discipline,here is a highly actionable, completely doable step-by-step plan to get you going. There are many books out there on self-discipline, but a lot of them are heavy on theory and light on practical steps. If you're reading this book, you're looking for something that can help you get things going. You want something that you can refer to easily, written in plain English, that would help you get the discipline you need to become more productive, overcome laziness and stubbornness, and otherwise achieve that level of success you have been dreaming of.
Here Is A Preview Of What You Will Learn In This Book
-You Will Learn To Have More Willpower, and Self Control
-You Will Learn Actionable Techniques
-You Will Learn About Changing Your Own Mindset
-You Will Learn How To Stop Procrastinating And Get Everything Done
-You Will Learn – How To Have More Self Control In Your Business, Eating, Working Out And Any Other Areas
-You Will Learn – Not Only What It Takes To Get Self Discipline. You Will Learn To Keep Self Discipline It For The Long Term.
-And Much, Much More!