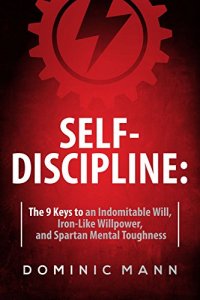 Free on 18th - 22nd Mar 17



or borrow free on Kindle Unlimited.
No reviews yet.
Discover the 10 Keys to Unlocking the Indomitable Will Lying Dormant Within You
If you would like to develop unbreakable grit… and do it even if you're (currently) lazy, undisciplined, and couldn't motivate yourself out of a paper bag… then this book will show you how.
Do today what other's will not; do tomorrow what others cannot.
In the late 1960s, Stanford researchers conducted the now-famous marshmallow experiment. It worked like this:
A researcher would place a marshmallow in front of a child. The researcher would then offer the child a deal: If the child did not eat the marshmallow while the researcher left the room for 15 minutes, the child would get a second marshmallow as a reward.
It turns out this simple experiment had extraordinarily predictive powers…
You must choose either the pain of discipline or the pain of regret
As the children grew into teenagers and then adults, the correlation between the marshmallow-eaters and the non-marshmallow-eaters was astounding.
The children who were able to delay gratification and wait for the second marshmallow got better grades in school, were less likely to become overweight, earned more money as adults, and so on. In other words, grit is the secret to getting what you want in life.
But if you think you're more of a marshmallow-eater than a non-marshmallow-eater, don't be disheartened, because…
Grit is a trait that can be developed
Fortunately, grit isn't something that's genetic. You're not born either a marshmallow-eater or non-marshmallow-eater. You can learn to become gritter. And that's just what this book teaches you to do.
How will you learn to develop jaw-dropping grit?
Inside the book:
The 4 keys necessary to develop jaw-dropping gritHow to "install" a habit that makes grit automaticThe difference between willpower and self-discipline… and why one yields greater results with less effortHow practicing so-called "negative visualization" can 10X your gritHow to "hack" your natural tendency to follow the path of least resistance to make you even grittierThe secret to "infecting" yourself with insane gritHow to "just be gritter" without even thinking about itThe #1 worst mistake you can make with your mindset. (Even if you do everything else "right", your grit and willpower will disappear into thin air if you make this common mistake nobody talks about.)Why visualizing success makes you less self-disciplined and more likely to failAnd much, much more…
To develop unbreakable grit and unleash the relentless, indomitable will within, scroll up to the top of this page and click the BUY button.