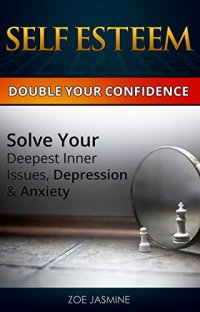 Free on 9th - 13th Jan 16



or borrow free on Kindle Unlimited.
No reviews yet.
Feel Confident – End Your Stress, Anxiety, and Low Self-Esteem!
How comes your colleague gets the promotion even though you always work more than him? Why all your teachers like Jeremy even though you always get the highest grades? That colleague and Jeremy appear like lightening figures to you does not they? What is the reason that no matter what they wear what they do is always appreciated by everyone? The answer to all those questions is self-esteem. Self-esteem is your inner self that is built by only you and no one else. It is a package that brings confidence, sense of self-worth, determination and liking yourself in you. A wise once said; "You need to feel beautiful if you want to look beautiful".
Unless you are not feeling confident you will not look confident and no matter how much you are working hard it will be ignored like you are being ignored. It is ok to make mistakes, it is ok to not to be perfect. You are a human not a machine. Learn to live your life your way. Everyone wants to be a leader and that can be only possible if you stop being a follow. Bring up your self-esteem as it is the only way how you can win every battle in your life. This book focuses on the importance of self-esteem and how much it matters in our lives. In the light of several research and studies, basic information about self-esteem is mentioned in the book starting from the how self-esteem develops in a human and various age factors that are involved in the enhancement or demise of it in a person. Low self-esteem is considered a menace. It can become a major cause in ruining your life and restrict you from moving forward and excel every day. Do not fear because all possible solutions to deal with the problem of low self-esteem are also mentioned.
. Other things that you will be learning in this book
Various ways to measure your self-esteem

How to fix your ruined self-esteem

How self-esteem can make a common man a leader

Impact of self-esteem on your communication

Damaging mental illnesses that low self-esteem can cause
All in all this book is a complete guide about everything that you want to know about self-esteem. Self-esteem is not a discovery of modern psychologists but it exits from the time humans came into being. Taking a look in the history, various personalities who became history makers knew how much self-esteem mattered and made their mark by keeping their esteem high. Self-esteem is a powerful tool that teaches you to keep your head up even in hard times. It is the combination of confidence, knowing your worth and respecting yourself. No medicine or exercise can bring up your self-esteem but only you can make it high and if cannot then suffer the isolation and lose everything in your life that off course no one wants to go through. Self-esteem is perceived wrong these days. Especially in today's world where our lives are being regulated and manipulated by continuous bombardment of media messages especially advertisements. Our advertisements are telling people that if they will use that particular cosmetic or food their spirits will get high and that is the only way how people will love them.
Our several entertainment programs like movies are also playing a major role in spoiling the image of self-esteem making people believe that to have high self-esteem you need to be evil and mean. A person with high self-esteem always adopts positive approach towards things you do not need to be a high achiever but a good human being to be liked by people. Love yourself the way God have made you, never say that you cannot do it and be kind to people these are the rules of high self-esteem that are not hard to follow at all.
Take action now and get this Kindle book for only $0.99!