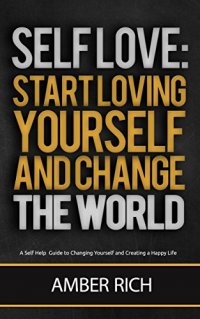 Free on 4th - 5th Aug 17



or borrow free on Kindle Unlimited.
No reviews yet.
Also Available as:
Print Edition

Get a happy life you've always dreamed of!
Are you unhappy and dissatisfied with yourself?
Are you tired of being alone and complicated relationship with others?
Would you like to be happier?
Are you ready to start creating your new life that you dream about right now?
What if you knew exactly how to be happy in life and minimize your failures? It's time to stop your suffering and discover what it takes to Start Loving Yourself and change your life
Certainly, everyone has a personal view of a happy life. However, most people need love for a happy life. Few people realize that love begins with self-love.
Lack of self-love makes you insecure, uninteresting, self-conscious with low self-esteem person.Besides a lack of self-love cause your career failures and low earnings.
Through self-love comes understanding how to improve yourself and change your life.
The book «Self-Love: Start Loving Yourself and Change the World. A Self-Help Guide to Changing Yourself and Creating a Happy Life» is the result of the author's personal experience.
The book aims to show the importance of self-love and teach you ?reating happy and harmonious life.
The book will give you the necessary tools and knowledge.
In Start Loving Yourself and Change the World you'll learn:
How to accept the principle of the responsibility for your life
Look at your life through different eyes
How social roles affect your life
How to build your personal boundaries
How to succeed
You will also learn:
Allow yourself to feel
Build healthy relationships with other people
Do not be afraid to say «no»
Become the center of your universe
What improvements will you experience if you begin to love yourself?
you will live your own life
you will become a harmonious person
you will realize that it is necessary for your happy life
around you will be successful and happy people
other people will begin to appreciate and respect you
success and luck will be with you constantly
If you want to learn loving yourself and live a happy, harmonious and amazing life… click the BUY NOW button at the top right of this page!