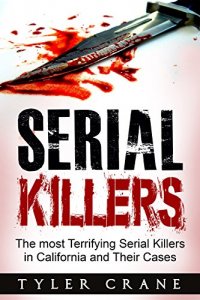 Free on 2nd - 5th May 16



or borrow free on Kindle Unlimited.
No reviews yet.
Serial Killers: True Crime Stories Of The Most Terrifying Serial Killers in California: Serial Killers Biographies and Cases

Find out these Chilling California Serial Killers Stories at a Special Price. Limited Time Offer!
California is the Golden State. Home to over 1.8 million inhabitants, an area rich with culture. Globally known as one of the places to visit when you're in the States, with beautiful cities and landmarks, impressive highways and beaches, and even the locals being mostly good looking and friendly.
Such a place seems like the perfect place to be… Unless you count the dozens of serial killers who have the state their home. In "Serial Killers in California" we will cover the stories of five of the biggest serial killers to have lived in the Golden State, who made it not only their home, but their hunting ground, living a life of death and darkness.
We hope you enjoy the book, and that it doesn't put you off visiting the beautiful state of California.
Here Is A Preview Of the Book…
"The Night Stalker" – Richard Ramirez"The Freeway Killer" – William Bonin"The Mass Murderer of Fresno" – Marcus Wesson"The Monster" – Timothy Joseph McGhee"Charlie" – Charles MansonMuch, Much more
Download your Copy Today and Get Instant Access to this special Offer!
Tags: serial killers, true crime, crime stories, serial murder, serial killers uncut, serial killers free, true murder stories, serial killers true crime, serial killers wife, cold cases true crime