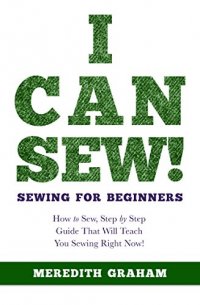 Free on 6th - 10th Jul 15


No reviews yet.
This book appears to be unavailable on Amazon.co.uk at the current time. If this is incorrect, please let us know here
Welcome to your first sewing guide!
Free bonus inside! (Right After Conclusion) – Get limited time offer, Get your BONUS right NOW!


Have you ever wanted to learn the skill of sewing?
Need to sew something fast and in need for quick and thorough guide on how to sew?


This is the guide for you.

Sewing is both an art and a skill. The growing industry for dressmaking and other clothing accessories have put sewing to the lime light. Many people think that sewing is a difficult art which can only be leant through someone's help. We have written this book with an aim that all our readers get use this manuscript as their instructor, for learning sewing and stitching. We have kept in mind the need of the beginners, who want to start with the most basic information and broaden it to the more diverse and complicated techniques.

After having a thorough reading of this book all our readers will conclusively get a helpful knowledge about the basic concepts of sewing, which can be applicable at different stages of sewing practice. All of the basic rules and techniques are taught to the reader, may not be in a scrupulous facet, yet in an elaborative practice so that the readers can easily use it as a first step guide, to continue with their sewing practice. All the basic techniques and the tools have been discussed in the most helpful way so that any type of readers, like beginners or experts, can use the book.

In this context we have not only analyzed the basic concepts of sewing and stitching, but we have also provided the list of devices and tools used in sewing. An elaborative discussion has been made in this regard, which enables the readers to get fully trained about sewing and its basics.

Our focus of rumination will be:
The foundation of sewing pertaining to the basic concepts of sewing needed to be known by all those, who want to learn sewing

The basic tools and devices used in sewing, with special reference to the parts of a sewing machine

The major techniques applied in sewing, which result in different pattern making

Some additional decorative and enhancing techniques applied in sewing

A lot of important tips and a brief discussion on the selection of fabrics and tools, which as crucial as right sewing!
***Limited Edition***

Download your copy today!