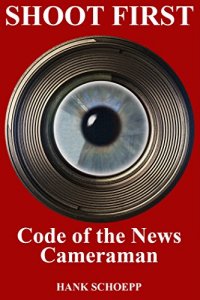 Free on 29th Mar 15 - 2nd Apr 15



or borrow free on Kindle Unlimited.
No reviews yet.
Hank Schoepp's memoir spans 29 years (1968-1997), a significant period in television news history. While on assignment for KPIX/CBS 5 in San Francisco, he captured events through the lens of his camera which commanded regional, national and worldwide attention as well.
Getting the pictures and bringing them back in time to air on the news often posed challenges, and Schoepp vividly recalls them with the stories behind the stories. A few among the many include tear gas attacks during student protests and rioting at U.C. Berkeley; the kidnapping saga of Patricia Hearst; the search for a vanishing school bus, driver and 26 children in Chowchilla, California; the aftermath of a mass suicide of over 900 people in Jonestown, Guyana; and rushing to the city hall murder scene of a San Francisco mayor and supervisor.
But there is more to this story than yesterday's headline news, and more than meets the eye of the cameraman who shot it first and thought about it later. Filling in the years between are all the other interesting people, places and things that happen on a newscast. Here again, the reader peers into the lens of a camera to focus on subjects of every stripe: from celebrity to man-on-the-street, to hero and heroine, criminal, victim, even animal, though not necessarily in that order of importance. And, looking beyond the lens is the more intimate view of family members and of how the news touched their lives as well.
Many books have been written by and about broadcast journalists with interesting things to say. And yet few have spoken on behalf of those who perform on the other side of the camera lens. Finally, that voice is heard loud and clear with SHOOT FIRST: Code of the News Cameraman.