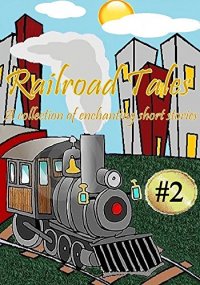 Welcome to the second issue of Railroad Tales!!
Following the success of the first issue, Railroad Tales Publishing brings you another collection of enchanting short stories that will surely keep you entertained and leave you craving for more. If you are about to set forth on a long and tiresome train journey or if you are going to be stuck in tuition or summer class for hours together, then this is the perfect book to rid yourself of the boredom and help you while away time entertainingly!!
Railroad Tales has a tailored collection of short stories from genres that are gripping and would leave you sitting on the edge of your seat.
This issue contains:
Mystery in Mrithika's Murder-THE CHASE

Following the conviction of the supposed murderer in the highly controversial Mrithika's murder case, Ali receives a call that the convict has escaped!! Find out how Ali follows the murderer's trail to uncover the actual truth behind Mrithika's murder!! You don't wanna miss the end!!
Spawns of Death

Not everybody is blessed with the opportunity to receive a mother's warm cuddle and affectionate nurture when they need it. Learn about the baby seals' plight in Spawns Of Death and find out if they escape the hungry jackals and make it out of the rocky terrain alive…..
The Sun Of Orathanad

What would you do if your Sun is dying and you are stuck in an alien planet waiting for it's time to end so that you can get out and save your world? Uthum bids his time on Earth patiently, only to find that he had been misled and used as bait. This story is sure to enthrall you with its interesting turn of events…..
Grab your copy now!!!!