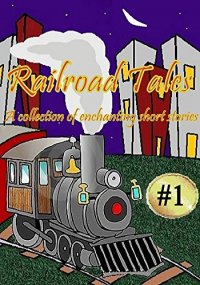 Top - Reviews - Update Details
Railroad Tales is a collection of enchanting short stories that is sure to keep you entertained and engaged and leave you wanting for more. If you about to set forth on a long and tiresome train journey or if you going to be stuck in tuition or summer class for hours together then this is the perfect book to rid yourself of the boredom and help you

while away time entertainingly!!
Railroad Tales has a tailored collection of three short stories from genres that are gripping and would leave you sitting on the edge of your seat.
Travel along with the charmingly handsome Ali in Mystery in Mrithika's Murder and get to know how he solves the mysterious murder case.
Seeking Hanukka is an adventurous treasure hunt story of five people who seek the mysterious and elusive treasure of Hanukka.
Ankith is an ordinary young boy who wanted to play cricket. But the most bizarre things happen to him on a sunny summer holiday. Find out about his supernatural adventures in Astral Ankith.
Grab your copy now!!!!