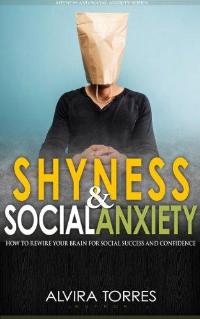 Overcome Shyness and Social Anxiety – Harness Your Potential For Social Confidence and Success
Today only, get this Kindle Book for just $2.99. Regularly priced at $4.99. Read on your PC, Mac, smart phone, tablet or Kindle device.
Is your social phobia, awkwardness, and anxiety ruining your life?

Do you desire to have more meaningful relationships and deep happiness?

Have you read a lot of information, gone to therapy or taken medications to treat social phobia, but none of them has fully helped?
You're about to discover a solid guide to effectively overcome shyness and social anxiety for the rest of your life. This book contains all of the strategies and principles that transformed a quiet and insecure loner to someone who now naturally thrives in the company of other people.
These foundational principles will help you overcome the usual mental traps that people with shyness and social anxiety face, attain core confidence and become socially valuable. To stop the painful cycle of loneliness, rejection and anxiety, you have to fully invest the time and energy in developing yourself and every area of your life. There is a way to unleash your potential for as long as you keep moving forward. This book was designed to help you get started in the right direction, starting with the foundations and habits that you must have before any other "tips" can work.
Here Is A Preview Of What You'll Learn When You Download Shyness and Social Anxiety
Mind-Body-Spirit Approach to developing social confidence
How to reprogram your brain to adapt any outgoing and social traits that you want
How to improve your conversational skills – Be valuable in every social interaction, and turn shallow small talk into meaningful conversations
Long-term habits to permanently internalize positive changes in yourself
Foundational values needed to have successful relationships
How to develop your emotional threshold to handle complex social interactions
And much, much more!
Download Your Copy Today

To order Shyness and Social Anxiety, click the BUY button and download your copy now!
Download "Shyness and Social Anxiety" right now…

… and get future access to my Social Confidence Toolkit articles and videos for FREE!
Tags: shyness and social anxiety, social anxiety and shyness, shyness, social anxiety, introvert, introvert personality, introvert genius, introvert strength, social confidence, relationships, communication, relationship and communication success, conversation skills