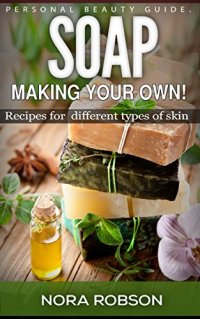 Free on 20th Mar 18



or borrow free on Kindle Unlimited.
No reviews yet.
Do you know that your skin is the largest organ of your body? It performs several functions that are vital for your body and health. Skin protects you from mechanical, chemical and biological damage, regulates the body's temperature and responsible for the sense of touch. And, as all organs do, skin requires some treatment and care.
The most common skin care product is soap – we use it every day. But not all of us know that there are different types of soap for each type of skin and using it inappropriately can cause your skin to look dry and ill. In this guide, you will learn how to determine what kind of soap your skin requires and how to make your own.
A lot of people have probably never thought they could make their soap. On paper, it seems as though it would take a whole day, which would be frustrating, but in actual sense, it is surprisingly quick and easy. Even your grandma could do it. Therefore, you should consider making soap at home and overcome any harbored fear regarding the process.
In this book, you will find everything you need to know about making soap at home – what equipment is required, what techniques and ingredients to use.
I collected recipes for the most common disease and skin types such as dry skin, irritated skin, oily skin and developed unique recipes for all your needs. With these recipes, your skin will be clean and soft – you will look much younger and healthier.
Is your skin oily or sensitive, or maybe you are looking something likea baby? Here you will find recipes for all occasions! Take a look at this guide – your skin will love it!