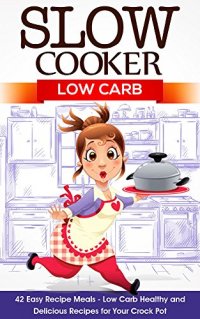 Slow Cooking Has Never Been This Easy!

***FREE Bonus Right After The Conclusion!!***
**2nd Edition Published May, 2015**

**All Recipes are under 15 Carbs per serving!**
Low Carb Slow Cooker Recipes to Help You Lose Weight
Don't you wish that dieting could be achieved without being limited to eating bland food? Do you want meals that are low carb but with great taste?
I definitely understand where you're coming from. Diets are difficult to maintain primarily because of bland-tasting food with only a limited number of ingredients to choose from. Besides, hanging around in the kitchen all day is nobody's idea of fun. And you wouldn't want a quick fix by ordering fast food that contains extra carbs and pull you back from your weight loss goals, am I right?
Worry no more cause we got you covered! The good news is that you can take all the stress out of cooking and meal planning, just by following the recipes given in this book!
The slow cooker is your friend. Toss all ingredients in, select the right settings, and come home to a healthy, nutritious, and best of all, delicious home-cooked meal that anyone in the family can enjoy. Yes, even the weight watchers will agree that the recipes in this book are simply awesome.
Here is what's in store for you:Over 90 delicious and nutritious recipesStart the day right with yummy breakfast recipesFind your new favorite dish among the main course recipesMouth-watering desserts

Not only that, the recipes in this book can help you:Lose weightLive a healthier lifestyleLook and feel great!

It's exciting isn't it?!
So grab your copy of Slow Cooker Low Carb: 95 Low Carb, Healthy, Delicious, Easy Recipes: Cooking and Recipes for Weight Loss by scrolling up and clicking the Buy Button!
Enjoy!