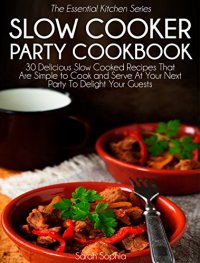 Slow Cooker Party Cookbook
Tired of serving the same old boring cheese and cracker tray at your parties?
Looking for ways to elevate your party snacks?
Well, you're going to love Slow Cooker Party Cookbook, it is filled with amazing recipes for your next party.
Now your friends, family, and guests will not only enjoy the company, but they'll also enjoy the food.
Cook delicious, mouthwatering snacks for your guest, or bring them to the next party you attend- with almost no effort.
In this book you'll learn:

Using your Slow Cooker For Your Next Party

Slow Cooker Uses

Ingredients to Use

AMAZING Party Recipes

And much, much more!
But not only that, you'll also get the 3 things most people do wrong when serving party snacks, and how to not do them.
So, stop serving boring vegetable and cheese trays and get the best book available on party snack recipes.
You're going to love it, and you'll never throw a dull party again.
Grab your copy of Slow Cooker Party Cookbook by clicking the buy now button.
P.S Don't forget to grab your awesome free gift inside the book, just our way of saying "thanks for buying"
A Book From The Essential Kitchen Series – Check Us Out On Facebook