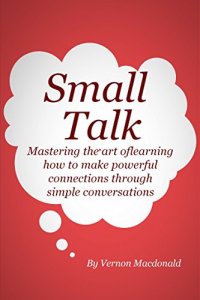 Do You Find Small Talk With Strangers Vexing? Do You Feel This Is Holding You Back?
Whether in business or social situations mastering the art of small talk is vital to making connections. This book will show you how it's done.
If you want to get ahead in this world you are going to have to make connections with strangers. The essence of this is known as small talk. Some people think that small talk is about communicating with another person, but that is a mistake. Rather, small talk is the art of establishing a rapport with someone by not talking about anything in particular. Once this rapport is established it is possible to move onto deeper, more meaningful and valuable conversations. However, you need to walk before you can run and this is exactly what small talk is.
There are a lot of people out there, this author included, who dread small talk. Are you one of them? Have you ever felt awkward at a party filled with strangers? Would you rather look at your phone messages then engage a stranger in conversation?
If so this book is for you and will teach you the following:
How to use small talk to make connections and therefore relationships with peopleHow to use it as a gesture of respect so that other people will like youHow it can make you smarter as you learn to read other people's minds in order to see their point of viewSpecial tips for the shySpecial tips for the introverted (being shy and introverted are not the same thing, btw)
The truth of the matter is that we all live in an extrovert's world. If you want to succeed in it you would be wise to learn how to mimic some of their characteristics and at the top of this list is the art of small talk. Whether you are looking to take your personal or professional life to the next level this book can help you do it. Tony Robbins once said that it is in your moments of decision that your future is made. Possibly without knowing it you have just reached one of these moments. Mastering the art of small talk will expand your horizons in ways you can't imagine.
Get this book and start exploring a new world of possibilities today!