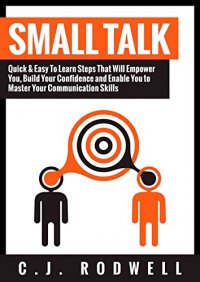 Free on 5th - 9th Jul 15



or borrow free on Kindle Unlimited.
No reviews yet.
Small Talk: Quick & Easy To Learn Steps That Will Empower You, Build Your Confidence and Enable You to Master Your Communication Skills
★☆★ LIMITED TIME FREE BONUS INCLUDED AFTER THE CONCLUSION, MAKE SURE YOU GET YOUR COPY NOW!★☆★
Let me ask you: Do you ever get nervous meeting strangers? Do you wish you could be at ease and have a casual, brief conversation that leaves you feeling good after?
Most people are intimidated when they meet strangers, so they miss out on making new friends. Their fears could be conquered if they mastered the skills of small talk.

We are social beings. Talking and interacting with others is the way we move ahead in life. As we talk with the people we encounter each day, we have an opportunity to develop relationships that are some of the most satisfying aspects of our lives. We get to know these people instead of just letting them quickly pass through our lives without any interaction. An inability to launch and maintain casual, comfortable communication can hinder us in every dimension of life, both personal and public.
Small talk eases the tension between two people, making it easy for them to interact with one other and develop more substantial relationships.
Here's just some of what you'll learn when you read this book:
✸ Three reasons why you should engage in small talk
✸ Six reasons why small talk is important in our lives
✸ Eight practical tips for how to engage people in small talk
***Small talk is the key to expanding your social network.***
Some individuals seem to be naturals when it comes to meeting and interacting with new people. But communication skills are always learned.
This book will teach you some basic skills that you can immediately begin using. You'll see the benefits for yourself as you grow in self-confidence and social ease.
Scroll up and select the Buy now with 1-Click to grab a copy today.