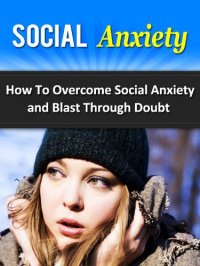 Free on 27th Nov 15 - 1st Dec 15



or borrow free on Kindle Unlimited.
No reviews yet.
Do you want to be able to conquer that social anxiety that has been holding you back? Social anxiety can be embarrassing for sure, but there are techniques that can ease the stress. The following is a guide to simply creating a standard of decreased stress in your life. We all create barriers in our minds and lives, and there are things you can do that will put you in a better position to not feel anxiety like where you live and the people you spend time with. This guide covers all of these measures.
Today get this Amazon eBook for only $2.99. Regularly priced at $4.99. Read on your PC, Mac, smartphone, tablet, or Kindle device!
These Strategies and Principles Can Help You Overcome Social Anxiety
This guide will help you set a standard of life that is much better and that has less anxiety in general. If you follow these steps, it will get you started with faithful techniques that can build some momentum in your life. What triggers your anxiety? Is it those groups of people at weddings you don't know? Or when you are in smaller rooms with a lot of people? Just avoiding these situations won't necessarily ease the tension and anxiety.
A Preview Of What You Can Learn
How to build a stress-proof life
How to create a lasting routine to prevent social anxiety
How to create a better attitude that other's notice
What freedom you can gain by getting to the center of what causes the stress
How to start going to those functions you previously avoided
Enjoy not worrying about what you look like and being perfect
Why check out a guide on social anxiety? If you want to stop worrying about what other people think of you and if you are embarrassing yourself, you must start getting these things on paper or out of your head. When you think about it, everyone feels some degree of anxiety; yours just might be a heightened. How much better would life be if you could get your stress levels down just one or two levels?
Tags: Optimism, Emotions, Positivity, Attitude, Wealthy, Confidence, Habits, Creation, Production, Procrastination, Media, Productivity, Goals, Focus, Concentration, Development, Improvement, Momentum, Panic, Panic Attacks, Anxiety, Stress, Social Anxiety, Doubt
Download Your Copy Today
The material in this eBook is easily worth more than $4.99, but for a limited time you can download Social Anxiety: How to Overcome Social Anxiety and Blast Through Doubt for a discounted price of only $2.99!
To order Social Anxiety: How to Overcome Social Anxiety and Blast Through Doubt, click the BUY button and download your copy today. You can read the book from the convenience of your Kindle, Computer, or Tablet.