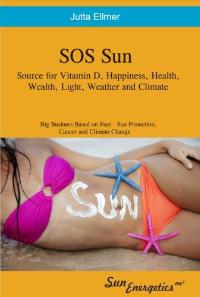 Sunlight is the basic element of our existence. Most current research reveals its vital role at every stage of our lives, from the fetus until old age. It affects our development, quality of life, health and life expectancy. Our modern life style has diverted far from the natural light of our sun.

The business around fear of skin cancer, power supply and climate change is booming, and dangerous geo-engineering experiments are hurried along, aiming to control the insolation.

SOS Sun – Source for vitamin D, happiness, health, wealth, light, weather and climate reveals secrets about the big business based on fear – sun protection, cancer and climate change. The power of our sun is a treasure for humanity.