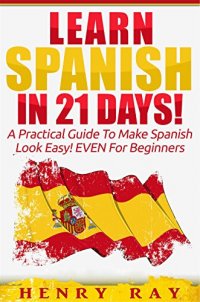 Free on 3rd - 7th Nov 18



or borrow free on Kindle Unlimited.
No reviews yet.
Learn Spanish In 21 DAYS!
This book contains twenty highly-informative chapters on the fundamentals of Spanish language, as well as grammar rules and communication. It is designed to address the needs of professionals, students, travelers, and self-learners who need to have a working knowledge of Spanish in a few weeks' time. The book aims to provide its readers a solid foundation on learning the Spanish language by targeting basic grammar rules while enriching their vocabulary and comprehension with useful and practical phrases.
Beyond the grammar, sentence structures, capitalization, punctuation, and pronunciation, you will find comprehensive listings of nouns, adjectives, verbs, adverbs, and prepositions as well as useful charts and tables that you can use as quick references to speed up your mastery of the language. Each chapter is an interesting discussion on the different aspects of grammar intended to make learning a new language an enjoyable experience.
You will find relevant and strategically chosen examples under each subject to reinforce your learning. The last chapter is a concise collection of common phrases that you can use to start a conversation, ask for help, introduce yourself, and make courteous greetings.
Here is what you will find inside:
Pronunciation GuideWord Order And Sentence StructureNouns And ArticlesPronounsAdjectivesMultiple AdjectivesVerbsAdverbsPrepositionsConjunctionsMoods Of VerbsThe Preterite TenseThe Future TenseNumbersTelling Time And DateUseful PhrasesBONUS CHAPTER from "French: Learn French in 21 DAYS! – A Practical Guide To Make French Look Easy! EVEN For Beginners"And Much, Much More…
Download Your Copy Right Now!
Tags: spanish, learn spanish, french, learn french, german, learn german, italian, learn italian, language learning