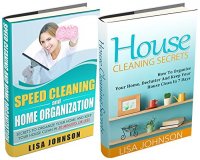 Free on 22nd - 26th Feb 15


No reviews yet.
This book appears to be unavailable on Amazon.co.uk at the current time. If this is incorrect, please let us know here
♦ ♦ WOW, AN AMAZING DEAL-NOT TO BE MISSED ♦ ♦
SPEED CLEANING AND HOME ORGANIZATION BOX-SET#3
♦ ♦ As A Thank You – Limited Bonus Included After The Conclusion ♦ ♦
BOOK 1: Speed Cleaning – How To Organize Your Home, Declutter And Keep Your House Clean In 30 Minutes Or Less
Take Action Right Now to Learn what you need to know how you can bring the organization and cleanliness you have always dreamt of within the shortest possible time. The book offers you great tips about speed cleaning from professionals that will not only see you your home fast, but in the most effective way. You will also learn how to organize your home using small but certain steps, which allows for fast cleaning! Therefore, instead of putting off cleaning longer than necessary, you can learn how to speed your house, and understand what makes it so easy to keep your house and tidy. The good news is that this book also gives you valuable tips from the professionals who can greatly impact your cleaning experience. This book emphasizes on the one important thing, speed. With the current busy lifestyle, allowing for a limited time to do cleaning, the best option is to speed and achieve the same remarkable success. Adopting the outlined steps will make you now enjoy cleaning rather than avoiding it.
Here Is A Preview Of What You'll Learn…
Speed Cleaning
Speed Cleaning Tips from Professionals
Speed Cleaning by Areas
More Speed Cleaning Tips
Home Organization for Speed Cleaning
Download your copy today!
BOOK 2: House Cleaning Secrets – How To Organize Your Home, Declutter And Keep Your House Clean In 7 Days 
Do you feel overwhelmed at trying to keep your home clean and organized? Do you feel stressed just at the thought of where to start? Cleaning and organizing any home is a skill, that once learnt, can save you time and drastically improve the quality of your life. Knowing the right steps and in what order is a must to not only have a clean and organized home, but to keep it that way! This book will prove to be a great tool for you to gain a neat and clean home, explaining a simple step by step process to reach your ultimate goal of living in a clean and de-cluttered home. Each chapter is dedicated to a specific cleaning task and getting your home clean and organized fast!!
Download your copy today!
Each page is filled with some of the highly recommended house cleaning techniques that are very simple yet utterly effective. If you are looking for a book that will help you to get your home clean effectively, then this book is for you! Get this practical guide to help you plan your household cleaning and you will see the results in no time, so why don't you download today and at the end of the week look back to see how fresh, clean and organized and be truly proud of your achievements. So, If your serious about reducing your stress, eliminating that feeling of being overwhelmed and getting your home clean and organized fast, then you need to grab a copy of"House Cleaning Secrets: Discover How To Organize your Home, Declutter, And Keep Your House Clean in 7 Days"right now, because Lisa Johnson, will reveal to you how anyone can get it done easily and effortlessly. 
As A Thank You – Limited Bonus Included After The Conclusion Free Ebook "Discover 10 Amazing Cleaning Strategies That Work" Free Chapter From 'The True Art Of A Minimalist Organization"