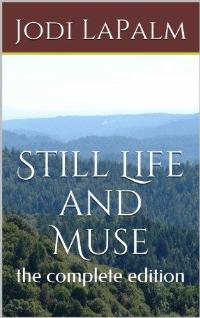 Free on 14th - 15th Sep 13



or borrow free on Kindle Unlimited.
No reviews yet.
Pages: 376
Still Life and the followup title Muse are combined into one edition for convenient, back-to-back reading!
STILL LIFE — "One of the best books I've read recently. It is beautifully written." (Amazon Reviewer)
This gritty romance focuses on one woman's debilitating heartbreak over the loss of her husband and the desire to heal a life she no longer recognizes. SUMMARY: Almost one year has passed since the death of her husband, and Julia is still reeling from the loss. Unable to go back, she reluctantly embarks on a journey abroad in the desperate hope she can learn to move forward. Follow her struggle to come to terms with who she once was and who she must become as it unfolds against the backdrop of a historic and surprisingly romantic London.
MUSE — "Muse brings closure to Still Life. The pacing and excitement increase towards the end of the book. In conclusion, you are left with a nearly happily ever after ending which is closer to real life." (Amazon Reviewer)
This followup to Still Life continues the precarious love story of Julia and Gabriel as they attempt to overcome separation and disconnect to finally merge their lives into one. SUMMARY: Julia has finally made the decision to live in the heart of the North Carolina mountains with her son Blake and new love Gabriel. It is there she places the finishing touches upon a fictional, yet disturbingly personal account of her time in London. As the struggle to write of her past adds to an already difficult transition, she and Gabriel-a painter-find themselves separated by a mutual need to create. Their subsequent retreat into a life fabricated solely on paper and canvas brings isolated comfort and severe disconnect from each other and the world beyond. Will the distance prove too great with every stroke of the pen and brush? Or can the very art that divides them also help to heal?