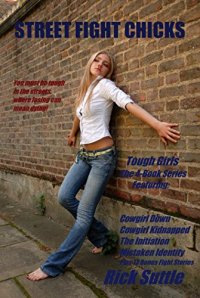 Free on 13th Sep 18



or borrow free on Kindle Unlimited.
No reviews yet.
The Complete Tough Girls Novelette Series: (*Plus 13 Bonus Fight Stories)
Cowgirl Down:

A rodeo cowgirl stops at an isolated western apparel store in rural Ohio for some boots. Instead of paying when no one's around, she decides to take the boots with the intention of sending a check when she returns home to Texas. But she's soon confronted by a huge teen girl who has no intention of calling the police. The girl takes matters into her own hands as the two clash in a brutal fight to the finish.
Cowgirl Kidnapped:

A teen girl jock beats up a cowgirl at a horse stables and later kidnaps her for $100,000 ransom. It is then up to her rodeo cowgirl friend to get the money and pay the girl at a secluded gravel pit in Texas. Except the girl and a friend have other plans for the two women, which leads to a brutal confrontation where only one side survives.
The Initiation:

Five woman returning from a rodeo find themselves in a rural Ohio town, when their SUV breaks down. They see a fire in the distance and walk across a pasture and through some woods to get a better look. When they realize they are interrupting the initiation of a teen girl gang, a violent fight ensues. The women soon find themselves fighting for their lives as one of them is captured and taken to a nearby horse stable.
Mistaken Identity:

Two 28 year-old former cheerleaders–one of whom flies in from Atlanta–attend the first fall football game at their old high school in Columbus, Ohio. They are soon confronted and escorted to the woods by a gang of punk girls who mistake them for drug-dealing biker chicks. When one of them is killed, the other must navigate the woods and waters of the Scioto River to save her life. But she must first fend off a couple brutal teen girls who are much bigger and stronger.
Bonus: 13 action-packed catfight stories written and compiled by the author from 1986 to 2014. Many are based on actual fights witnessed in bars, schools or at fast food establishments.