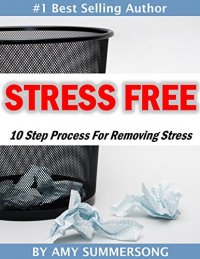 What can you do today to become stress free?
Are you full of fear? Paralyzed by Stress? Stuck because of Worry?
Move forward today!
In, #1 Best Selling Author, Amy Summersong's wonderful self-help book "Stress Free – 10 Step Process for Removing Stress" she gives you a simple guide map and easy to follow steps to identify the stressors in your life and how to take control of your life back. You have the tools at your disposal to attack any problem. This book will help you to work through those problems that are holding your life hostage.
Choice is a powerful weapon against Stress and it is a weapon you wield!!!
Give yourself the gift of this book and within one hour you will be on your way to addressing those stressors in your life that sap the energy and focus from you.
Buy this book – a decision you will never regret!!
The choice is yours and this is a choice you must make if you want to finally get out of Stress jail. Take that step today and start through the process of a path towards a stress free life.