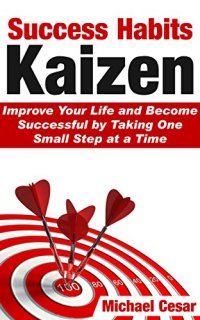 Free on 28th Mar 15 - 1st Apr 15



or borrow free on Kindle Unlimited.
No reviews yet.
Challenge yourself in your pursuit of a successful life by taking one small step at a time!
For a limited time discount only, get this extraordinarily useful guide for just $2.99. Regularly priced at $4.99. Read on your PC, Mac, smart phone, tablet or Kindle device.
This book, Success Habits: Kaizen — Improve Your Life and Become Successful by Taking One Small Step at a Time, is a dynamic resource for men and women alike to set small, attainable goals that are measurable and maintain a pattern of positive behavior.
"Kaizen" means "change for better," and is created to increase your productivity at work as well as at home. Kaizen has successfully been utilized by major corporations across the globe to increase productivity and establish an environment of innovation. These same techniques can and will help you with your life, improve your productivity, heighten your enthusiasm, and give you a whole new set of effective tools with which you can take small, yet aggressive steps to improving your environment—at home as well as at work.
The key to Kaizen is taking one small step at a time, gradually adding success after success under your belt. By making small steps toward an ultimate goal, your confidence builds, your attitude changes, and people around you begin to enjoy your company more and more.
Take action today and download this book for a limited time discount! Success Habits: Kaizen — Improve Your Life and Become Successful by Taking One Small Step at a Time
Download Your Copy Today
Tags: Success, Habits, Kaizen, Motivational, Inspirational Books, Self Improvement, Success Mindset, Success Habits, Self help, one small step can change your life, The Kaizen way, Change your life