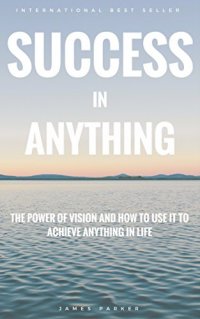 Free on 21st - 25th Dec 15


No reviews yet.
This book appears to be unavailable on Amazon.co.uk at the current time. If this is incorrect, please let us know here
My name is James Parker and I am about to reveal to you the power of vision, how to build one, and achieve everything you have ever wanted.
I can confidently say that because I have personally transformed my life with the information I am sharing with you in this book. You too will transform your life with the specific and fascinating strategies and tools revealed in Success In Anything.
The Power Of Vision
A strong ?nd current vi?i?n ??nn??t? with ??ur ????i?n? and gr??t??t ??t?nti?l?. R?g?rdl??? ?f problems facing you, a vision h?l?? ??u kn?w what and wh? you ?r? d?ing th? thing? you ?r? doing. H?ving a vision is m??t im??rt?nt in th? ??th ?f ??ur personal ?u?????. In short, the brilliant things revealed to you in this book works.
Essential Results I Have Experienced Because Of The Strategies In This Book:
I went from fat and tired to transforming my body to a stunning health with an effortless vision.

I went from almost broke to incredibly wealthy with amazing success.

At 25 years old, I meet my dream girl who I married three years later.

I became an entrepreneur, transformed my lifestyle to a new of my dream.

And much, much more!
Here Is A Preview Of What You Will Learn When You Download Success In Anything Today
What having a vision really means.

The untapped power of having a vision.

A proven step-by-step strategy to build your personal vision.

The thrilling and powerful motivation a vision can give you.

How to expand ??ur vi?i?n and connect d???l? within ??ur inn?r n??d?.

The important f??tur?? of a vision what will ?ll?w it to full? in??ir? and driv? ??u to success.

How to harness your vision to achive success in life.

And much, much more!
Download Your Copy Today
To order Success In Anything, click the BUY button and download your copy now!