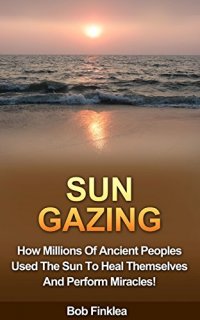 Sun Gazing Description
Today only, get this Amazon bestseller for just $0.99. Regularly priced

at $3.99. Read on your PC, Mac, smart phone, tablet or Kindle device.
The sun is the brightest star in our planetary system and is arguably the single most celebrated celestial body in our sky. The power it possesses has fascinated and intrigued people for centuries. People are said to "worship" the sun and are curious about its healing properties, so much so that from ancient times to the modern era, the sun's role in human health has been studied and stacks of literature have been written attesting the importance of sunlight to our health by everyone from shamans and village leaders to the most respected medical doctors.
The human body needs sunlight. To deprive it of such unleashes a host of medical conditions, but practicing the art of sun-gazing can also be dangerous if not handled properly.
SUN GAZING: How Millions Of Ancient People Used The Sun To Heal Themselves And Perform Miracles! will explore:…
The history of sun-gazingHow the sun projects a deep influence on our bodiesHow civilizations throughout history have explored the sun's curative propertiesThe healing potentials and abilities of the sun—including improved vision and freedom from diseaseHow to properly practice sun-gazing for optimum health benefitsHow the ancient practice of "sun-gazing" is becoming a new trend in healing therapy

And much, much more!
Sun gazing has roots as far back as the early Egyptians, Mayans and Native Americans, many including temples of worship to the sun itself. Although the wisdom of the ancients has long been buried and obscure, many of the old scripts for sun-gazing are being rediscovered today by modern practitioners. By educating ourselves and learning about these ancient practices, we too can begin to actively pursue the health benefits of this life-giving source. Pick up your copy of Sun Gazing and begin a new healthy lifestyle today!
Download your copy today!
Take action today and download this book for a limited time discount of only $0.99!