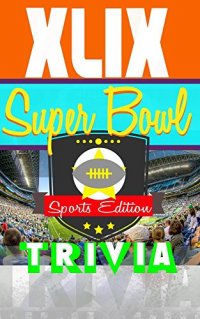 Free on 2nd - 6th Feb 15


No reviews yet.
This book appears to be unavailable on Amazon.co.uk at the current time. If this is incorrect, please let us know here
THE AWESOME SUPERBOWL XLIX TRIVIA BOOK!
The 1st Super Bowl XLIX Interactive Trivia Book Is Here…
This is an awesome INTERACTIVE trivia book with over 130+ questions involving these 2 great football teams; the SEATTLE SEAHAWKS and the NEW ENGLAND PATRIOTS. You'll absolutely love playing this awesome trivia quiz game. It's fun for all ages, and it WILL test your knowledge about what YOU THINK YOU KNOW about these truly phenomenal teams.
This is the perfect game for any TRUE FOOTBALL FAN! You've got to play it TODAY, and test your Superbowl XLIX knowledge. It's also filled with pictures of the teams. Go ahead and have fun playing THE VERY FIRST "SUPERBOWL XLIX" INTERACTIVE TRIVIA BOOK right now…
The Awesome Stuff In This Great Interactive Trivia Quiz Game Is…
2014 Seattle Seahawks Regular Season Trivia2014 Seattle Seahawks Post Season Trivia2014 New England Patriots Regular Season Trivia2014 New England Patriots Post Season TriviaSUPER BOWL XLIX GAME TRIVIA
(UPDATED AFTER SUPERBOWL 49)
˃˃˃ Be A SuperBowl XLIX Champion!
After you complete this 597 page in depth trivia book, you can say to all your friends that you are "THE" Authority when it comes to Superbowl Trivia as the SuperBowl 49 Game Trivia CHAMPION! So, do you think you know football? THen prove it! This fun, & interactive trivia game will test even the most knowledgeable NFL football fans, including the most avid Seattle Seahawks, and New England Patriots fans too…
This is great for parties and get togethers for MILLIONS of football fans around the world! When you play this game you'll know the most important statistics about these two great teams for the 2014 NFL season. It's also fantasy football players dream. Feel free to use this as your secret weapon next year in your Fantasy League. We'll soon be publishing other Interactive NFL trivia books about the 2014 season.Your friends will envy you, and wonder how you're doing so well in next years season.
Even if you don't know the first thing about football you'll love this game, because people will wonder how it is that you know SO much about this great game of football! Won't that be cool?
˃˃˃ Get the book BEFORE we UPDATE it!
Directly following SuperBowl 49 we will be updating the book at which time we will raise the regular price of the book significantly as soon as we do. If you get your copy NOW you'll be locked in for all of the updates! That way you can have fun with this trivia for years to come. ***BE SURE TO GO SIGN UP FOR THE UPDATES THROUGH THE LINK IN THE BOOK & DON'T FORGET TO MAKE YOUR MEME OF MARSHAWN LYNCH AT THE END!***
What's your favorite team by the way? well, we'll be happy to publish an interactive trivia game about your favorite team for you. We'll tell you how when you sign up for the trivia book updates via SMS inside the book.
˃˃˃ ALSO WIN A NFL JERSEY OF YOUR CHOICE WHEN YOU SIGN UP FOR UPDATES!
We are giving away the NFL jersey of your choice when you get the book, and sign up for the lfetime updates for the book. you'll also get instant notifications for ALL of the interactive trivia quiz game books that we publish for life. We are in the process of publishing trivia books in ALL sports in both PRO and COLLEGE sports, and you'll get a text message every time we publish one in order to get the early bird discounts.
Now Scroll up and get your copy of SUPERBOWL XLIX TRIVIA today!