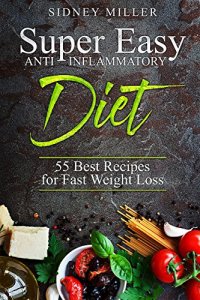 Discover the 'Super easy anti-inflammatory diet – 55 best healthy recipes for fast weight loss' book
Today only, get this Kindle book for a special price and read on your PC, Mac, smart phone, tablet or Kindle device.
The human body uses several natural mechanisms to heal and defend itself from harm. One such mechanism is inflammation. Inflammation is a natural process that usually helps your body; unfortunately, it can also run wild and become chronic.
When this happens, chronic inflammation can last for a very long time if not properly dealt with, sometimes even for several years, and this usually brings about additional health problems. Despite these health threats, there are many actions one can take in order to reduce inflammation and improve one's overall health.
By knowing the types of foods which trigger inflammation in your body, you will be able to change your diet accordingly. This book outlines a detailed anti-inflammatory diet and lifestyle.
What you will learn?
What is chronic inflammatation?
Basics of anti-inflammatory diet
Best breakfest recipes
Best recipes of salads and sides
Best recipes of soups and stews
Best recipes for preparing meat and poultry
+ bonus FREE e-book 'Encyclopedia Of Spices & Herbs'
Get it today!
© 2017 All Rights Reserved