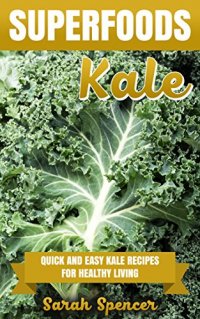 Supercharge your diet with KALE! Sneak-in this nutritious SUPERFOOD in your Recipes and reap all its healthy benefits!
Download FREE with Kindle Unlimited!
Kale is fast becoming one of the most popular vegetables in the health food world. Add it to your diet for its nutrition to reap its many health benefits. You'll be supercharging your body with healthy doses of nutrient, vitamins, and even protein!
In recent years, kale has grown increasingly popular, being touted by health experts and nutritionists as a ?superfood?. One of the primary reasons is because the dark green, glossy, and crinkly vegetable is so nutritionally dense:
It offers more iron per ounce than beef,
Contains more calcium than milk,
High in protein.
Kale is also an excellent source of vitamins K, A, and C, which help maintaining healthy skin and vision, boosting immunity, and maintaining normal bone function, as well as many other bodily processes.
This cookbook provides new inspiration with a range of alternative preparation methods from sautéing to baking, to help cooks sneak this superfood into everyday dishes. From salads and dips to pastas, stews, and pizzas, these 50 recipes cater to picky and adventurous eaters alike.
Inside, you?ll find:
The different kind of kale
How to choose your kale
How to prepare kale
50 Quick and Easy Recipes including:
Sausage, Kale, and Barley Stew
Chinese Spicy Kale and Beef
Kale and Bacon Tart
Chicken and Kale Baked Pasta
Beef and Kale Tacos
Prawn and Kale Madras Curry
Japanese-style Cod and Kale
Lentil, Carrots, and Kale Salad
Chestnut, Kale, and Mushroom Pie
Kale, Brussels Sprouts, and Potato Hash
Kale and Onion Pizza
Kale and White Bean Soup
Kale Chips with Citrus Cumin Saltv
Kale and Parmesan Crostini
Kale and Hummus Dip
Cheesy Kale Bites
And much more!
Download today and enjoy reading on your favorite device like Kindle, IPad, IPhone, Android tablets and phones, laptops, and even your computer with the free Amazon app.
Scroll back up and click the BUY NOW button at the top right side of this page for an immediate download!