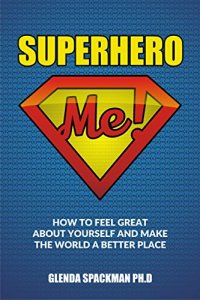 Free on 25th - 27th Sep 16



or borrow free on Kindle Unlimited.
No reviews yet.
Do you lack confidence in yourself because you don't know what's important to you?

Do you long to make a difference in the world but have no idea where to start or what you could contribute?

Are you in a career or a job that is frustrating and disappointing?
If you answered yes to any of these questions, then Superhero Me is for you. In this practical book, Glenda Spackman explains how you can become a superhero, how you can create a meaningful life on your terms.
Superheroes are people who create a life based on their own values, not the values of others. Your values determine what's important to you and what success means on your terms. You don't choose your values, you choose whether to live according to them or not. Understanding your values will enable you to choose a career and job that fits you and is meaningful.
Superhero Me shows you how to uncover your values and teaches you how to overcome fears and limiting beliefs that stop you from being a superhero.
Superhero Me explains how emotions are useful because they can guide you make decisions so your needs are met and you are able to create a meaningful life built around what's to you.
Superheroes use their superpowers to make a difference in the lives of others. True meaning comes from meeting your own needs and contributing to others. Superhero Me shows you how to identify your unique, amazing superpower and how to find opportunities to start exercising it right now wherever you're at in your life.
Superhero Me is super-practical. The exercises at the end of each chapter will help you:

o Identify your unique values so you can make life decisions aligned with your values

o Identify and replace limiting beliefs and fears

o Identify and discard blindfolds and unhelpful habits that are stopping you from taking responsibility for your life

o Learn how to work with your emotions and trust them to guide your decisions

o Increase your self-esteem and develop emotional intelligence

o Identify your superpower and opportunities to use it right now
If you want a life that makes you feel good, gives you a sense of purpose and shows you how to make a difference in the world, then Superhero Me is a must-read book for you.