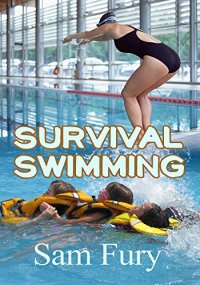 Free on 3rd - 6th Jan 18



or borrow free on Kindle Unlimited.
No reviews yet.
Also Available as:



Print Edition

These Basic Swimming Skills Could Save Your Life!
Whether you want to learn life-saving swimming skills or to dramatically improve your swim speed, technique and stamina, Survival Swimming: Swimming Drills to Learn and Improve on the Five Best Swimming Strokes for Survival will teach you how.
Note: Survival Fitness by Sam Fury contains all the information in Survival Swimming plus a whole lot more!
Inside Survival Swimming You Will Learn
* Sculling Water: A basic but very important swimming technique to help keep your head above water.
* Doggy Paddle: A low energy swimming stroke that is great for if you are clothed or when wearing a life jacket, and good for those that don't like putting their head underwater.
* Elementary/Survival Back Stroke: A great energy saver which is also very useful if an underwater explosion is likely.
* Freestyle: A fast and efficient swimming stroke. Learn the best way to do it for maximum efficiency and speed.
* Breast Stroke: Great for swimming underwater, in rough seas, through debris and also good for long range swimming.
* Side Stroke: A very useful swimming stroke for rescue.
Swimming Techniques Specifically Chosen to be Used by All Ages and Skill Levels.
* Teach your whole family these life-saving swimming strokes.
* Learn to swim with proven swimming drills.
* Improve your current swimming technique.
* Simple and clear pictures to make learning how to swim easy.
* Filled with easy to follow swimming drills.
* Both on land and in water exercises for progressive learning.
* Discover the best swimming strokes to use depending on the situation.
* Great for general health and weight loss
… and much, much more!
LOOK INSIDE Survival Swimming to see everything that's included!
Get your copy of Survival Swimming and increase your swimming skills NOW!
Scared of water?
Follow the simple, progressive exercises to help you overcome your fear before you learn swimming.
Don't know how to swim?
Use the swimming drills in this book and you will learn how to swim in the most efficient way with step by step instructions and pictures that anyone can follow.
Already know how to swim?
Survival Swimming contains clearly detailed and easy to follow swimming drills to achieve the most efficient swimming stroke you can, the same way the professionals do.
Swimming is a very important skill when it comes to survival. There are all too many stories of people that have drowned needlessly just because they didn't take the time to learn how to swim.
Even just knowing the basic swimming strokes will save your life, and this type of stroke can be learned in a matter of hours.
A few more hours and you may know a stroke that you can use to save another person's life.
Swimming is also a fun, low impact form of exercise with great cardiovascular advantages.
Survival Swimming Bonus
Get access to all the latest Survive Travel publications FREE!
Check Out What Others are Saying About Survival Swimming
***** Survival Swimming is super helpful to those like me who need some more swimming 101. It explains all the basic strokes and techniques, as well as how to get more comfortable in the water. – Chloe H.
***** … provides basic swimming skills for beginners, motivation for those who fear the water and also fun professional strokes, easy exercises and drills with pictures for swimmers. – Jackie.
Grab your copy of Survival Swimming: Swimming Drills to Learn and Improve on the Five Best Swimming Strokes for Survival NOW!