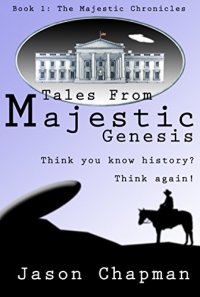 Fans of the X Files will love the 1940s conspiracy story
An object of unknown origin crashes in the New Mexico desert.
A war wary President is dumbfounded by what he learns
A ruthless business tycoon hell bent on controlling Capitol Hill
A journalist determined to discover the truth.
Think you know history? Think Again!
When a Mysterious object crashes outside Roswell in New Mexico a clear up operation begins. President Harry Truman is informed of the situation and a highly classified group of men code-named Majestic 12 begin to investigate what turns out to be the greatest discovery known to man.
The majestic team recruit ruthless industrialist Jacob Barnes to fund a research operation into the Roswell crash. However Barnes asks for more than Majestic are willing to give.
Tales from Majestic is a short story series chronicling UFO history over the last 70 years. Beginning with the Roswell crash of 1947, Tales from Majestic leads way from the actual event following a historical UFO timeline. Using a blend of historical and fictional characters this unique short story series looks beyond events in America playing out on an international Stage. Tales from Majestic follows in the spirit of shows like The X Files and Dark Skies and will appeal to many people across many genres.