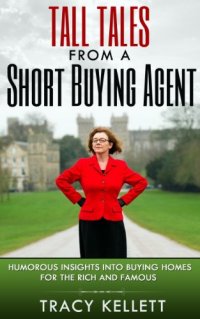 Have you ever wondered what goes on when celebrities and the rich go house hunting? Deliciously waspish and funny, there are no holds barred and no curtains un-twitched with Tracy Kellett. Buying agent to the rich, famous and ordinary, she takes you on an acerbic journey through the lives, properties and idiosyncrasies at the top of the property food chain.
As one of London's top buying agents and regular contributor to Sky News, the BBC and national newspapers on all things property, this book is based on her award-winning and humorous blog.
What ridiculous demands do celebrities have? How can a flat be worth thirty million pounds and, more importantly, what does it look like? What is it like to be a buying agent for these people?
Tracy Kellett takes us through the keyhole to spy on not only the properties themselves, but the people who buy them. From Knightsbridge apartments and rich Russian piles to bumpy boat rides around Scottish islands, this is an insight into a lifestyle that mere mortals can only imagine.

House hunting with the rich and famous is quite a ride, jump on!
It's not just revolving beds, refrigerated suites for furs and safe rooms for handbags. Why was Tracy literally backed into a corner by an infamous Oligarch? What did the plastic surgeon to the stars try to barter with? Why did Tracy fall royally out of favour with a Chinese billionaire?
This is the world that Tracy Kellett lets us peek into – and she does it with a venom soaked quill.