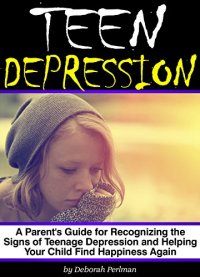 If you're concerned that your teenager may be suffering from depression, then this book is for you!
Read on your PC, Mac, smart phone, tablet, or Kindle device.
Adolescence can be a tough time for both teenagers and their parents. Raging hormones often cause heavy emotions and mood swings, leaving teens feeling miserable and irritable. When this is experienced "every now and then," you can consider it to be absolutely normal. However, when your teen's negative emotions and downtrodden attitude exist perpetually for long periods of time, it could be an indicator for something far more sinister: teen depression. Coming to terms with the fact that your child may be suffering from depression can be one of hardest things a parent has to go through, as it's difficult to sit back and watch your child suffer. Fortunately, there are certain things you can do to help lessen the pain of what your teen is experiencing and help restore his/her happiness. This book is geared toward helping you identify and understand exactly what your teenager is going through at present, and what course of action should be taken. You will first learn exactly what teen depression is really all about, and you'll learn what signs to look out for when trying to figure out if your teen is truly suffering from depression. We're also going to cover the effects of teen depression and what you, as a parent, can do to intervene and help your child. Should your child indeed be a victim of depression, I will show you how to support your child through this difficult time and how to support her as she goes through treatment. And last, since prevention is always preferable as compared to treatment, I will explain how you can reduce their chances of suffering from depression in the future.
Here Is A Preview Of What You'll Learn…
Understanding Teen DepressionHow to Recognize the Signs of Teen DepressionGetting to Know the Effects of Teen DepressionWhat You Can Do as a ParentHow to Support Your Child During TreatmentKeys for Raising Happier TeensMuch, much more!Download your copy today!