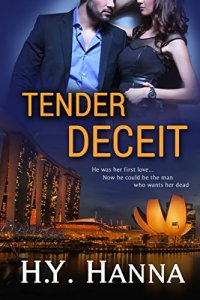 FREE FOR A LIMITED TIME
He was her first love… Now he could be the man who wants her dead.

Leah returns to her childhood home of Singapore after her father is murdered and finds that the boy she once loved has become a handsome, dangerous stranger. Who is Toran James and what exactly is he hiding? Suddenly, she discovers that the past holds more secrets than she realised. Someone is out to silence Leah – and that someone could be the man she is rapidly falling in love with…again.
GENRE: Romantic Suspense Mystery Thriller

Fast-paced, action-packed romantic suspense filled with intrigue and sizzling tension. The perfect escapist read!
* This is the first part of Leah & Toran's story, which continues in TENDER TREACHERY (Book 2). Each book in the series features a complete standalone mystery/suspense storyline, but the romance is open-ended and not resolved until Book 3.
Books in this Series:

TENDER DECEIT (Book 1)

TENDER TREACHERY (Book 2)

TENDER BETRAYAL (Book 3)