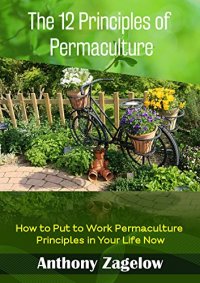 Free on 10th - 14th May 18



or borrow free on Kindle Unlimited.
No reviews yet.
Revised 2nd Edition with over 50% New and Expanded Content! Learn How to Apply the Principles of Permaculture in Your Life Today – Explore how to think beyond the garden and apply the principles of permaculture in all aspects of your life
The main goal of this book is to get the reader to think of permaculture principles as something broader than gardening techniques. Permaculture is a set of design principles that can be applied to any type of system design. The 12 design principles are common sense and will guide the process naturally as you walk your design through a given principle.
In each principle's chapter, the reader is given an overview of that principle and then given real-world examples of how the principles apply in other areas of our lives beyond the garden. Examples include topics like gardening, finance, health, and education.
The examples or peppered with questions to prompt the reader how and where they can embrace permaculture in their everyday life immediately. From plant guild combinations to how the permaculture mindset can help you save money and live vibrantly
In the second writing of this book, has incorporated as much of the constructive feedback from the first addition and the content has doubled in length to better explore each principle and to explore innovative ideas.
This book attempts to free the principles of permaculture from their most common association of being just farming techniques and view them as a guiding set of design principles for solving problems.
This book doesn't require the reader to have any prior knowledge of Permaculture or have taken any design courses but rather gives you ideas you can use NOW!

The 12 Principles include…
Principle I: Observe and Interact Principle II: Catch and Store EnergyPrinciple III: Obtain a YieldPrinciple IV: Apply Self-Regulation and Accept FeedbackPrinciple V: Use and Value Renewable Resources and ServicesPrinciple VI: Produce No WastePrinciple VII: Design from Patterns to DetailsPrinciple VIII: Integrate Rather Than SegregatePrinciple IX: Use Small and Slow SolutionsPrinciple X: Use and Value DiversityPrinciple XI: Use Edges and Value the MarginalPrinciple XII: Creatively Use and Respond to ChangeMuch, much more!
Download your copy today!
Take action, join the revolution and download this book today
Tags: (Permaculture, permaculture design, green living, climate change, environmental management, resource, global warming)