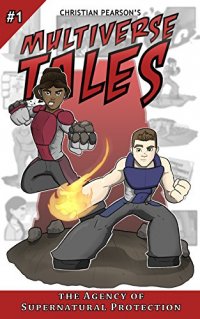 Free on 27th - 31st Aug 16



or borrow free on Kindle Unlimited.
No reviews yet.
Welcome to the A.S.P
Where fighting monsters isn't always the toughest part of the job
The Story
When Sterling is sent on his first mission in nearly a month, he's ecstatic! There's nothing he likes more than battling supernatural beasts alongside his partner and best friend, Agent Alexis Jones. But, when Sterling makes a huge mistake in the field and lets his target escape, his job, friendship and self-respect are thrown into jeopardy. Will he be able to redeem himself and defeat the monster he let go? Crack open the book and find out!
The Series
Multiverse Tales are a collection of illustrated action, adventure books about heroes from wild and exciting dimensions. Every story is its own individual tale so you don't have to read them in any specific order, but they all exist in the same Multiverse, so watch out for crossover stories!
What We're About
At Multiverse Tales, we believe that Origin stories are overdone. In this series, we skip the whole 'how they got their abilities' part and drop you right into an adventure! We also believe that books with pictures aren't just for kids. Because, really, what's a superhero story with no visuals? In Multiverse Tales, you'll rarely go more than two pages without an image! Finally, we believe in quick, snappy stories that you can read in one or two sittings. These books aren't huge time commitments and you get a full, rounded off story in a couple hours.
Who Should Read Multiverse Tales?
These illustrated novels are great reads for people with short attention spans. No origin stories means you get into the action quicker. The books are also great for anyone who likes comics. Think of these books as being half way between a comic book and a novel.
Series Inspiration
These stories are inspired by two main sources: The Marvel Cinematic Universe and Weird Science comics. Every book has a superhero type character who is often forced to team up with other heroes from different worlds. The character crossover inspiration comes from the MCU while the one-off, short adventure format is inspired by the EC Comics from the early 1950s which were stories about different characters every issue.
To find out what becomes of our heroes, scroll up and buy Multiverse Tales issue 1 now!