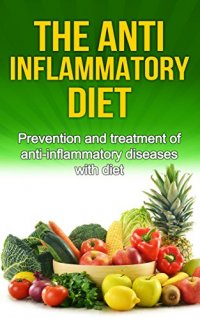 Free on 10th - 14th Dec 15



or borrow free on Kindle Unlimited.
No reviews yet.
Do you suffer from chronic inflammation and want to reduce it with a diet? Perhaps lose some weight?
Get this book.

Read on your PC, Mac, smart phone, tablet or Kindle device.

Do you suffer from chronic inflammation? Or perhaps you are getting closer to the age of 60 and need to take care of your health. Are you more susceptible to chronic inflammatory diseases such as Crohn's Disease and Rheumatoid Arthritis? Does anyone in your family suffer from chronic inflammation?

The anti-inflammatory diet is designed to reduce the various risks of aging such as disease. It is not a diet in the sense of a weight-loss program. That being said, you may very well lose weight from it due to the nature of the types of food to be consumed. These anti-inflammatory foods are quite healthy for you. Full of necessary nutrients, minerals, fatty acids, fiber and phytonutrients.

This type of eating plan will stabilize your blood sugar. It involves consuming lean protein, healthy fats, water, vegetables and fruit.

Perhaps you are curious why you would want to consume a diet that is anti-inflammatory. It's true; Inflammation serves as a method in which the body protects itself. It's function is to remove damaged cells, irritants or pathogens, and ultimately to begin the body's healing process. How is this a negative?

Inflammation is extremely important. If there is too little inflammation the harmful stimuli that is causing cell death will not be eliminated and thus continue to destroy cells. On the other end of the spectrum, if the body is constantly inflamed, serving no purpose, it can damage the body and can lead to many issues and problems. Certain diseases can be developed due to this such as hay fever, heart disease periodontitis, atherosclerosis, rheumatoid arthritis and even different forms of cancer.

There are numerous causes of chronic inflammation such as stress, lack of exercise, genetics, exposure to toxins, however, diet contributes in a large way as well. This book will help detail the mechanics of acute and chronic inflammation, briefly explain the causes and certain precautions to take to avoid this issue. We will then jump into the various foods to consume and avoid and a variety of delicious and nutritious recipes so you can enjoy your new diet.

I understand it is difficult to make a change in ones lifestyle. Especially if you are not used to eating well. Perhaps you enjoy fast food, soft drinks and alcohol. Personally, I find what helps me in making changes is focusing on the delicious new foods I can eat, and avoid thinking about what you are removing from your diet. Also, try to determine what triggers you to consume the wrong food and break the habit of poor dietary ingestion. That is why there are recipes included in this book. Easy to cook delicious meals.

Here Is A Preview Of What You'll Learn…
What causes inflammation Anti-inflammatory foodsInflammatory foods to avoid<

/li>Other treatments to chronic inflammationVitamin and Mineral supplementsOther causes of chronic inflammationNutritional suggestionsAnti-inflammatory nutritious recipesMuch, much more!

Download your copy today!

Take action today and download this book for a limited time discount of only $0.99!
Tags: lose weight, anti-inflammatory recipe, arthritis, aging, health, balanced diet, anti-inflammatory diet