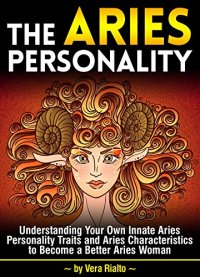 If you want to know more about how your Aries astrological sign impacts your personality and your life, then this book is for you!
Read on your PC, Mac, smart phone, tablet, or Kindle device.
Did you know that as an Aries woman, you have specific and innate personality traits that are unique from all other Zodiac signs? And more importantly, by understanding these exclusive characteristics and personality traits (including not only your strengths, but also your weaknesses) you will be able to better leverage them for your own advantage, thereby optimizing your chances for success in the various areas of life. This book was written to help you to better understand the nature of your astrological sign, and it will teach you how to nurture and apply the positive Aries traits while correcting and compensating for the negative ones. With this information, you'll be able to grow and evolve into a better and more mature Aries woman. What are you waiting for? Let's get started!
Here Is A Preview Of What You'll Learn…
Understanding Your Innate Aries Personality TraitsNurturing the Positive CharacteristicsHow to Apply and Optimize Your QualitiesCorrecting the Negative TraitsSelf-Improvement Step-by-StepTen Tips on Being an Aries WomanMuch, much more!Download your copy today!