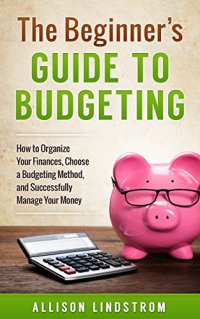 Free on 4th - 8th Jan 16



or borrow free on Kindle Unlimited.
No reviews yet.
DISCOVER: How to Organize Your Finances and Find the Budget That Works For YOU!
Want to start a budget or fix the one you have, but don't know where to start? This compact guide will help you identify potential weaknesses, choose a proper budgeting method, and guide you through the implementation process with step-by-step instructions.
LEARN: How to Track, Organize, and Plan Your Personal Finances
Budgeting can be intimidating if you don't know where to start. These chapters take you through the entire budgeting process and are perfect for the ultimate beginner.

Various budgeting methods are covered, including pros/cons and step-by-step instructions for each. By identifying any of your budgeting weaknesses, you can take control of the spending, saving, and planning of your money.
ACHIEVE: Success in Managing Your Money
We all want to be successful when it comes to managing our personal finances. While money doesn't necessarily buy happiness, the security it can provide is always a good thing to have. By broadening your budgeting knowledge and adding a healthy dose of determination, you can find the financial security you've always wanted.
Never accept that your budget is destined to be a failure.
ORDER: The Beginner's Guide to Budgeting: How to Organize Your Finances, Choose a Budgeting Method, and Successfully Manage Your Money
"The Beginner's Guide to Budgeting" includes a catalog of ideas you can use to jumpstart your personal finance budgeting. You will learn:

*How to Prepare a Successful Budget

*How to Choose the Budgeting Method That's Perfect for You

*A Step-By-Step Process for Preparing, Organizing, and Implementing a Successful Budget

*Reasons Your Budget May Be Failing
Would You Like To Know More?
Download and start building your successful budget.

Scroll to the top and click the Buy button.