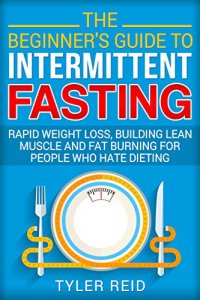 Bargain on 3rd - 7th Dec 17



or borrow free on Kindle Unlimited.
No reviews yet.
Why spend hundreds of dollars and months of your time on worthless diets when intermittent fasting has been proven to work over hundreds of years, it's basically free and allows you to eat whatever you want in between fasts?
In "The Beginner's Guide to Intermittent Fasting", author Tyler Reid offers you powerful rapid weight loss and fat burning tips that anybody can apply to feel better, build lean muscle and lose weight fast without giving up the foods that you love for months, as with other expensive diets and exercise programs.
In this concise intermittent fasting book, you will learn:
oHow to lose weight and burn belly fat without time consuming and tiring exercise routines
oHow to keep an intermittent fasting journal to keep you on track
oIntermittent fasting diet in conjunction with the 5:3 Diet and Warrior Diet
oWhy it works… intermittent fasting for women and men
oProven tips that anybody use to quickly lose weight and feel better!
Page Up and Order Now!