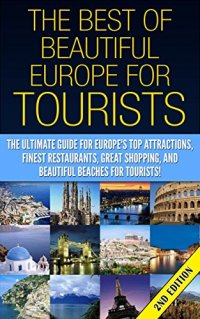 Free on 30th Aug 15 - 3rd Sep 15


No reviews yet.
The Best of Beautiful Europe for Tourists 2nd Edition: The Ultimate Guide for Europe's Top Attractions, Finest Restaurants, Great Shopping, and Beautiful Beaches for Tourists!
Get on a plane today and see Europe and its hottest attractions! If your planning a getaway nothing more perfect than GETAWAY GUIDES! Everything you need in one book for your travels to Europe! Know the tourist attractions, best beaches, and which districts to shop in!
Dont waste you time searching over the internet, asking friends or family, find it yourself inside! See the Eiffel Tower, The Tower Bridge, and the Grand Canal!
Amazing Beaches, lists of them with one click of your mouse! Ibiza, Los Canos de Meca, Isa Bella and the most amazing Harbor Beach!
Looking to do your shopping? No need to worry we have them listed too for Milan, Paris, Florence and Moscow
Right after your enjoy the districts sit and enjoy Europe's finest cuisines! So may too choose from like Maison Troisgos, Amador, Le Louise XV, and Noma leave you speachless
DONT HESITATE TODAY! GET ON IT AND DOWNLOAD YOUR NEXT DESTINATION AND BE PREPARED FOR YOUR NEXT TRIP!
DOWNLOAD NOW!