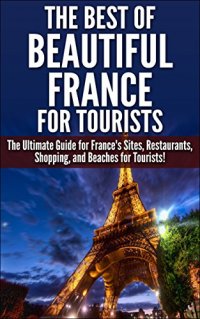 Free on 30th Aug 15 - 3rd Sep 15


No reviews yet.
The Best of Beautiful France for Tourists 2nd edition: The Ultimate Guide for France's Sites, Restaurants, Shopping and Beaches for Tourists
BEAUTIFUL FRANCE AVAILABLE TODAY! SITES AND ATTRACTIONS DETAILED INSIDE
People associate France with beautiful Renaissance architecture, warm delicacies like the croissant and their distinct fashion style. France is listed as the most popular tourist destination in the world. It attracts about 80 million tourists every year on average. It is one of the leading cultural destinations in the world and is one of the sites where many International events are held.
Tourists also go to France to experience Parisian cuisine and a taste of Parisian fashion. The museums, cathedrals and palaces also provide a peak at France's culture, and how the country looked magnificent, even a few hundred years before. The France travel experience also provides enough variety to suit different tastes and preferences.
The romantic allure of France has not faded in time and in fact continues to attract people from people all over the world. France is one of the destinations that you should not miss. There are various attractions to see and many other untouched places to enjoy.
Here Is A Preview Of What Is Inside…
What to Know About FranceSites to VisitFood and DinningShopping in FranceBeach GuideMuch, much more!
Download your copy today!
Tags: France, French Restaurants, Shopping in France, French District, French Shopping District, Sites to see in France, French Sites, Sites in France, Restaurants in France, Tourism France, French Tourism, Beach guide for France, French Food, French Dinning