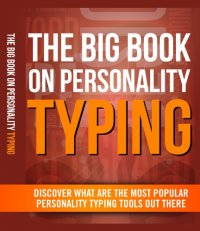 Free on 25th - 29th May 19



or borrow free on Kindle Unlimited.
No reviews yet.
Personality typing or types refer to the classification of the different types of individual psychologically. When you say personality types, it is the different kinds of personality or traits that a person or individual has. But when you say personality typing, it is the act of knowing the kind of personality that this person or individual portrays. It is easy to know the types of personality of a person through the use of the personality typing tools. These tools are used to determine the right personality of a person. Sometimes, the personality type can be distinguished through the personality traits of a person or by grouping the behavioral tendencies. According to some experts, it is important that you know the personality of the person so that you will be able to make certain adjustments to the things that will make them feel comfortable or you can find a better spot for them in your company. For example, if you are hiring an employee, the personality test will let you know if this person is friendly, strict, hard working or deserving for the position that you are looking for. Personality typing can be given to anyone who wants to know the type of personality a single person has. Knowing the personal types of the people is not used to degrade them but it is used to know the capabilities of a person regarding their work. If you don't know the personality of the people around you or within your workplace, you will surely find it hard to fit in or understand their world. This is because every person around you has his or her own different personality that you should understand. You will not find it hard to know their personality type once you get to know them well. Some people base their personality type on the experiences that they have encountered with the person. As you get to know the person, you will also know the type of personality that he or she has. Just make sure that you know the different types of personalities so that you will be aware of how to treat other people depending on their own personality. You will find a lot of benefits in knowing your personality type and these benefits will surely help you move forward to your future. It will also help you gain more knowledge and ideas on how you can interact with other people.