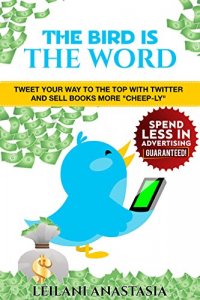 Free on 29th - 30th Oct 18



or borrow free on Kindle Unlimited.
No reviews yet.
Are you a self-published author with some really good content but don't know how to gain a readership? Are you struggling with sales yet don't have the budget to launch a pricey advertising campaign? If your answers are yes, then this book is the one for you! See how the author grew her Twitter followers from 0 to over 3000 in less than 60 days! Not only do they follow but they also buy books! Learn how to get more than 50 followers per day on the average. Packed with great information and suggestions, this book is a go-to guide for any author who is looking to sell books through Twitter while being "cheep"! If you're looking to make your book selling business a career, then this book is a great tool to lead you down the path of success through the social media giant Twitter!